WORKING CLASS HERO
On the anniversary of John Lennon's death, Marilyn Manson presents an acoustic clip of "Working Class Hero", which is a Lennon song that appears as a B-side on the "Disposable Teens" single.

News & Events

08/24/00 -Album TrackListing:
A-IN THE SHADOW: 1)Godeatgod 2)The Love Song 3)The Fight Song 4)Disposable Teens
D-THE ANDROGYNE: 5)Target Audience (Narcissus Narcosis) 6)"President Dead" 7)In The Shadow Of The Valley Of Death 8)Cruci-Fiction In Space 9)A Place In The Dirt
A-OF RED EARTH: 10)The Nobodies 11)The Death Song 12)Lamb Of God 13)Born Again 14)Burning Flag
M-THE FALLEN: 15)Coma Black a)Eden Eye b)The Apple Of Discord 16)Valentine's Day 17)The Fall Of Adam 18)King Kill 33° 19)Count To Six And Die (The Vacuum Of Infinite Space Encompassing)
Marilyn Manson Releases The New Album Today: November,14th
TWELVE MINUTE SELL OUT - 11/12/00
Tickets for the January 13 show at the Universal Amphitheatre in Los Angeles went on sale yesterday. The show, sponsored by KROQ, sold out in 12 minutes.
BANNED ALBUM COVER - 11/12/00
The cover of Holy Wood has been banned from Circuit City and Best Buy. These stores will be carrying an alternate album cover. Manson had this to say. "The irony is that my point of the photo on the album was to show people that the crucifixion of Christ is, in deed, a violent image. In fact, the picture itself is composed of a statue of Jesus taken from a place of worship. My jaw is missing as a symbol of this very kind of censorship. This doesn't piss me off as much as it pleases me, because those offended by my album cover have successfully proven my point."
MARILYN MANSON INTRODUCES MAVEN - 10/17/00
Marilyn Manson is proud to introduce Maven, the new band from collaborator and long- term inspiration Bon Harris, formerly of Nitzer Ebb. While creating Holy Wood, Bon played an integral role in sequencing, editing, pre-production and the actual creation of the album. "Bon was someone I respected, even interviewed in '89 and I was completely blown away by his musical ability and his voice. I was fortunate that he took time away from Maven to work with me because he became a sort of 6th member, and I don't use that term lightly. I think Maven adds genius songwriting to the genre of electronica in a totally original way."
GUNS GOD & GOVERNMENT WORLD TOUR: THE SET-LIST
(For most of the concerts)
-Count to Six and Die (partially played)-
Irresponsible Hate Anthem
-The Death Song
- Disposable Teens
- Great Big White World
- Tourniquet
- The Fight Song
- My Monkey
-Lunchbox
- Rock is Dead
-The Dope Show-
Cruci-Fiction In Space
- Burning Flag
-Sweet Dreams/Hell Outro
-Valentine's Day
- The Love Song
-The Beautiful People
-The Reflecting God
-Astonishing Panorama Of the Endtimes
- Diary of A Dope Fiend
-1996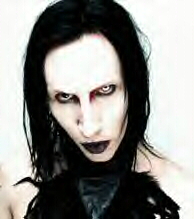 MARILYN MANSON IN "USA TODAY" -11/21/2000
Click Here To Read The Whole Article
GINGER FISH INJURED IN NYC 11/26/00
At the end of the show last night in New York, Ginger fractured his collar bone while jumping over his drum set. He is feeling fine and will not miss any shows. The tour continues in Detroit Tuesday night.
CATHOLIC LEAGUE DECLARES BOYCOTT ON MANSON'S "HOLY WOOD" IN NEW YORK POST'S "PAGE SIX"11/26/00
MANSON MASS
Shockingly, the Catholic League has condemned Marilyn Manson's new album, "Holy Wood," which features such titles as "Disposable Teens," "Godeatgod," "Crucifiction in Space" and "The Death Song." Catholic League President William Donohue took particular offense at the Goth rocker donning a bishop's role and a cross in the "Teens" video. "It is Christianity that [Manson] hates, and it is Catholocism that he hates most of all...This guy is at war with Christ," Donohue says, in calling for a boycott of the CD. In response, Manson had this to say,"I can't possibly be at war with Christ, because your religion killed him and what he stood for. But if you want to be at war with me...bring it on."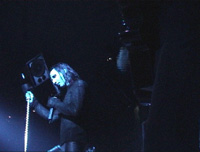 TOLEDO SHOW CANCELLED 12/05/00
This evenings show in Toledo Ohio was cancelled due to drummer Ginger Fish re-aggravating his injured collar bone. The tour will continue Thursday in Columbus.
NEW YEAR'S EVE PERFORMANCE CONFIRMED 12/12/00
Make sure to tune into MTV on New Year's Eve to catch a live performance from the MTV Times Square studios by Marilyn Manson at Midnight. MTV is holding a special contest to win tickets for you and a friend to party at this performance. Five winners (and their guests) will be VIPs at the New Year's Eve party, while MTV will put you and your friend up in New York City.
CANCELED SHOW TONIGHT IN OMAHA 12/12/00
Due to Blizzard weather conditions Marilyn Manson and crew were not able to leave Peoria to make it to their show tonight in Omaha. The tour will pick back up in Wichita tomorrow, December 13th.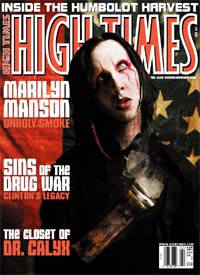 MARILYN MANSON ON THE COVER OF HIGH TIMES 01/03/01
GRAMMY NOMINATION FOR MARILYN MANSON 01/03/01
Marilyn Manson has been nominated for a Grammy today for Best Metal Performance for "Astonishing Panorama Of The Endtimes" which was featured in both "The Last Tour On Earth" and from the "MTV Celebrity Deathmatch" (Various Artists) CD.
ARTWORK FROM THE SHADOW OF THE VALLEY OF DEATH 01/03/01
A photographic exhibition by Marilyn Manson & P.R. Brown will be running from January 18th to February 15th, 2001 at The Gallery 1628 N. Cahuenga Blvd (between Hollywood and Selma) Los Angeles, California. The Gallery hours are Tuesday through Saturday 1 to 5 p.m.